Winter Storm Warning!!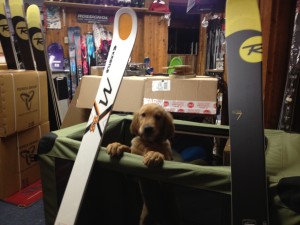 We are under a winter storm warning until Friday afternoon. The last I read, forecasters are calling for 5-8 inches! Our new shop dog Charlie is very excited about the news!! You will notice that he has chosen to two skis today the Kastle M 88 and the Rossignol Soul 7.
Charlie has only seen snow once and went bonkers. He is pumped for this upcoming winter season! Mention his Soul 7 pick and receive a 30% discount off your ski rental in Aspen or Snowmass!!