Making a Good Thing Better
One of my favorite parts of being a buyer for a ski rental shop is going to the SIA trade show in Denver each January and seeing the new gear for the following ski season.  There are always a few surprises and one of the surprises at last winter's show was that Volkl was redesigning their popular Mantra.  I was a little disappointed when I first saw that this ski was changing.  That all changed when I got the opportunity to ski the Mantra at the On-Snow demo at Copper Mountain.   The changes are all fairly drastic starting with widening the ski from its previous waist width of 98 mm and making it a 100mm ski.  The new model also lost its camber and is now a flat ski with rocker in the tip and the tail.  I have always viewed the Mantra as more of a carving ski so I was intrigued that it was getting wider and losing its camber.  I know rocker is all the rage these days but camber still seems to be a good thing on groomed terrain.  Volkl uses what they call ELP rocker (the same rocker profile that they put in the Bridge.)  ELP stands for extended low profile and it looks just like it sounds.  The rocker profile is very gradual which means you still get an effective edge contacting the snow throughout the length of the ski when you flex it and get it on edge.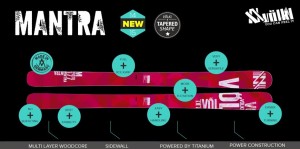 I was amazed how stable the Mantra was for a ski without camber.  There is a layer of titanium just under the topskin as well as vertical sidewalls that you will find in most Volkl skis in their freeski and race lines.  This ski will go as fast as you want.  It remains a relatively stiff ski but is more user friendly with the new rocker profile.  I still think this ski is mostly meant for expert skiers but I don't think you need to ski as aggressively to enjoy the ski and get optimal performance out of the ski like you had to on the old Mantra.  The rocker in the tail helps make the ski more maneuverable and it is easier to smear turns than it was in the older model.  This helps make the ski very at home in the bumps, not just on groomed terrain and crud.  All of these changes make the new Mantra a go to ski for Aspen Mountain.  Come rent it at Incline Ski and Board Shops this winter!  Mention this blog post when you rent your 2015 Mantra and receive an extra 10% off!