Aspen Snowmass To Open Early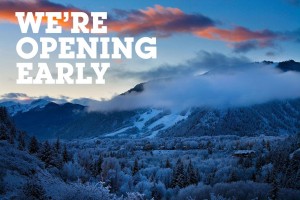 Lets get this party start early!
After weeks of rumors, Aspen Mountain and Snowmass Mountain will be opening early this year. We have a had a very wet October and after a dry week, more snow is in the forecast over the next 7 days. The mountains look very different than a year ago. It is encouraging to see white peaks.  Our shops are just about ready to open and with a strong push, we will be ready for the early opening.
We have started mounting the 2014 gear and are stoked to finally get to ski. Come by the shop for early season discounts on ski rentals in both our Aspen and Snowmass locations.